Island Peak Climbing (6189 m)

- 19 Days

Island Peak 6,160 meters was first ascended in by a British expedition that included Tenzing Norgay. Eric Shipton's party named the peak in 1953, as it resembled an island in a sea of ice. The peak is part of the south ridge of Lhotse and linked to the semicircle of cliffs that rise to the north of the summit of Nuptse. Our adventure begins with a short flight to Lukla and two days of easy walking to Namche bazaar. En- route to Base Camp our trail takes us into the high valleys of the Khumbu region, providing magnificent views of Everest and the satellite peaks. Island Peak is a substantial undertaking, which demands hard work and commitment; however the rewards of standing on top of this Himalayan are tenfold.

This course is suitable for the complete novice or as a great refresher for those who want to climb again. The course curriculum includes an introduction to equipment, crevasse rescue, ice climbing skills, rope work and comprehensive mountaineering safety techniques.
Trip Highlights
Incredible landscapes and panoramic views of Himalayan mountain.
View of Imja Lake.
Traditional Sherpa culture with warm hospitality.
The historic Tengboche monastery.
Biodiversity of flora and fauna.
Outline Itinerary
Day 01: Pick up from Kathmandu Airport and transfer to hotel.
Day 02: preparation day for your climbing trip visit at office and briefing
Day 03: Kathmandu to lukla flight Fly trek to Phakding 2610M -3.5 Hours
Day 04: Phakding to Namche 3440m. 6 hrs
Day 05: Namche Rest for Acclimatize Day. Explore khumjung /Everest view hotel .
Day 06: Namche to Tengboche 3860m. 5.30 hrs
Day 07: Tengbicje to Dingboche 4410. 5 hrs
Day 08: Dinbuche rest day !! day hike to Chukung O/N Dingbuche
Day 09: Dinbuche to Chukung 3.5hrs Meet our climbing support team and short briefing
Day 09: Chukung to Island peak base camp
Day 10: Island peak base camp to summit and back to Island peak base camp or chukung if fit and fine !!
(Base camp to High Camp ) will be apply if the group are required !!
Day 11: Optional Day if weather is bad!!
Day 12: Chukung Trek down to Tengboche.
Day 13: Tengbuche to Namche or Monjo.
Day 14: Namche to Lukla.
Day 15: Early Fly back to Kathmandu and transfer to Hotel.
Day 16: Free day in Kathmandu.
Day 17: Departure.
Option B:
Joining Basis (B.C-B.C) 6 day including climbing training
Day01: Meet our staff in Chukung and climbing training
Day02: Climbing Training
Day03: Climbing Training O/N Chukung
Day04: Chukung to IP Base camp
Day05: Summit IP and back to B.C
Day06: Spare day if weather is Bad
Option C:
Climbing Only Base camp to Base camp -4 days
Day 01: Chukung Meet our climbing support team and short briefing
Day02: Chukung to Island peak Base camp
Day03:Summit day and bace to Base camp or Chukung !!
Day04: Optional Day if weather is Bad!!
Full Board Service Details
What's included
Flight ticket (KTM-LUK-KTM)
English Speaking Trekking Guide and porter while you are tea house trek.
Climbing Guide and supported team while you are peak climbing.
 All Foods and accommodation in tent while you are climbing and tea house lodge.
Two men tent, form mattress will be provided while you are with our camp.
All kitchen equipments, climbing guide and staff their insurance.
      Climbing gears:
Rope, Harness, Ice-axe, Carabineers, Crampons, F-8, Jummer, Helmet, Ice-Bar, and Ice-screw.
     Permit:
 National park entry permit, Climbing permit, TIMS and all government TAX.
 
What's not included
Sleeping bag(3-4 season) and climbing boots.
Your personal warm clothes for Trekking/ climbing.
Personal High rescue Medical insurance.
Helicopter evacuation if needed any emergency Case.
Beverage: coke, beer, Mineral water, bar bills.
Foods in Kathmandu.
Tips for your trip staff.
Detail Itinerary
Detail Itinerary
Departure Detail
| Start Date | End Date | Cost | Status | Booking |
| --- | --- | --- | --- | --- |
| 25 September, 2017 | 13 October, 2017 | USD $0 | Available | Book Now |
| 30 September, 2017 | 18 October, 2017 | USD $0 | Available | Book Now |
| 05 October, 2017 | 23 October, 2017 | USD $0 | Available | Book Now |
| 10 October, 2017 | 28 October, 2017 | USD $0 | Available | Book Now |
| 15 October, 2017 | 02 November, 2017 | USD $0 | Available | Book Now |
| 20 October, 2017 | 07 November, 2017 | USD $0 | Available | Book Now |
| 25 October, 2017 | 12 November, 2017 | USD $0 | Available | Book Now |
| 30 October, 2017 | 17 November, 2017 | USD $0 | Available | Book Now |
| 05 November, 2017 | 23 November, 2017 | USD $0 | Available | Book Now |
| 15 November, 2017 | 03 December, 2017 | USD $0 | Available | Book Now |
| 20 November, 2017 | 08 December, 2017 | USD $0 | Available | Book Now |
| 25 November, 2017 | 13 December, 2017 | USD $0 | Available | Book Now |
| 30 November, 2017 | 18 December, 2017 | USD $0 | Available | Book Now |
Peak climbing FAQ?
What is the best season for peak climbing?
March to May, September to November Is the best season for peak climbing.
How difficult is peak climbing?
It depends on the peak you choose to climb, there are easy peaks as well as difficult peaks, and we recommend peak climbing according to your need and your expertise.
What is the success rate of peak climbing?
It depend the peak you choose, climate, weather, health and the peak grade: roughly the success rate of peak climbing is above 95% from our company.Do you provide equipment, or do we have to rent?
You can hire or buy personal equipment needed for peak climbing, apart from that the major climbing equipment will be provided by HEN.
What problems occur in high altitude?
Lack of oxygen in a body might occur in high altitude which may result in nausea, vomiting, drowsiness, hypothermia even death.
Can I charge my device while peak climbing?
Yes you can charge your device like mobile, camera and chargeable device.
Who will be my guide and what is their qualification and experience?
HEN provides veteran, qualified peak climbing and mountaineering guides.
What kind food and accommodation you provide?
We provide healthy food and comfortable accommodation as available in the region you trek such as tea house or lodge or camps.
Does your company give certificate after successful peak climbing?
Our company provides certificate which is provided by NMA. You have to fill up the form with your detail, summit photo, name of the team leader.
How you rescue if I become sick?
Depending on the seriousness of the accident we provide first aid if not then company can arrange the evacuation operation to the nearest medical facility and in case of any emergency company could bring you to Kathmandu.
Do I get refund if I become sick before peak climbing?
(It depends upon company policy)
What permit do I need for peak climbing?
Nepal Mountaineering Association: the authorized government body issue permits which is needed for peak climbing and our company will assist you on getting the permit.
How can I join the group?
(follow the link)
Do you provide base camp to base camp service for peak climbing?
Yes we provide base camp to base camp service
How you manage food accommodation and safe drinking water?
Water here is drinkable but taking into consideration of our client's health and hygiene we provide mineral water which is purified and filtered. We provide standard and healthy foods. We provide best and comfortable lodging service available in trekking route.
PEAK CLIMBING EQUIPMENT LIST
Gore-Tex pent and jacket
Warm fleece jacket
Light dawn pent
Good quality dawn Jacket
Climbing boot
Crampons
Climbing harness
Carabineer
Ascending device Jumar
Descending device (8) figure
Gloves gore-tex
Ice axe
Helmet
Tape sling
Prussic loop
UV protected sunglass
Suns cream +30  
BASIC GEAR
Rucksack: 40 - 55 liter
Waterproof Duffle Bag: 60- 70 liter (for main equipment including sleeping bag and mat)
4 season sleeping bag (-20 Deg C)
Warm hat
Neck guard, Sun hat
Sunglasses (UV protection)
Headlamp
Extra batteries for your headlamp
Mitten or over mitten (wind / water resistant)
Mid-weight trekking boots
Training shoes or similar (to wear around teahouses)
3 pairs of outer socks
Light to medium weight base layer top
Light insulating layer
Non-cotton hiking shirt, Long sleeves preferable for sun protection
Soft shell layer
Hard shell jacket
Good Quality Dawn Jacket
Light to medium weight base layer bottoms
Hard shell pant
Lightweight trekking pant
Sunscreen: High SPF
Lip screen: High SPF
Water bottle
Camera and spare batteries
Toothbrush, Toothpaste, shop
Towel
Personal Medicines and Medical Kit
Personal Snacks, chocolates
Client Review(s)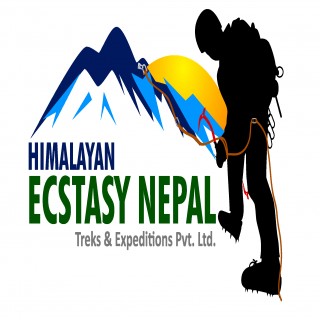 Island Peak ( Imja Tse)
"I arrived in Kathmandu with no plan and no trip". But shortly after meeting Sujan and his team from Himalayan Ecstasy Nepal things were shaping up. And only a few hours later I was all set with flight to Lukla, (which was an impossible task in itself,) Timms permit, trekking peak set and itinerary laid out. It really had been such a mammoth task to organise the whole thing in 10 hours but Sujan arranged it all. 
And I really couldn't have asked for any more. It all went as planned. I had such a great experience which was more than I'd ever expected. I had assistance when I need it and was also just left to get on with my trip as I wanted too. 
I can highly recommend Himalayan Ecstasy Nepal and will certainly use them again for future trips. 
Well done and thanks to Sujan and his team!
Regards
Adrian Wilcock, UK
Adrian Wilcock
U.K